View Our Rentals
Vacation Rentals In NH
Vacation rentals at Stonehurst are your own mountain retreat built within the pine groves that surround the Manor. Offering our guests three floors of well-planned living space, the lodging is spacious, with your choice of three or four bedrooms and two and a half baths. Complete with a kitchen, living room, fireplaces, and air conditioning you'll have ample space for everyone. These vacation rentals in NH have their own personality and theme. Each rental is uniquely decorated with fine furniture and the latest appliances. Staying with us gives you elegance in the outdoors.
Our Resort Amenities are Included:
Our resort amenities and discounted activities are included and are only just a short walk away. For your convenience, add dinner and breakfast daily at the Manor for only $39 per person per day. Pamper yourself with no cooking and no dishes one day or every day!
For questions on reservations, please call us at (800) 525-9100. We'll work with you to fit your particular booking needs.
Please note the following regarding rates:
Holiday Weekends: Three night Minimum and add $50 per night to nightly weekend rate
July and August: Three night minimum however there may be shorter stays offered based upon availability
Christmas & February Vacation Weeks: Seven night minimum and add $600 to seven night rate
Daily maid service is not included
Prices do not include 9% New Hampshire sales tax
7B – Deluxe Pet Friendly
This rental features a wood fireplace along with a jacuzzi in the master bathroom. A pool table and a massage chair are unique amenities to help you relax. This three bedroom condo includes the master bedroom with a king bed, a second bedroom with a king bed, and a third bedroom with a queen bed. This rental is also pet friendly.

Midweek: $325 / Weekend: $375 / 5 Ngts: $1275 / 7 Ngts: $1525
8B – Deluxe Pet Friendly
This large rental accommodates up to 8 people in its four bedrooms. 3 1/2 baths and a woodstove are additional amenities. All four bedrooms include a queen-sized bed.

Midweek: $375 / Weekend: $400 / 5 Ngts: $1225 / 7 Ngts: $1475
14D – Deluxe Pet Friendly
This three bedroom rental features a gas fireplace and a large jacuzzi in the master bathroom. All three bedrooms have queen-size beds. This condo is also pet friendly.

Midweek: $325 / Weekend: $375 / 5 Ngts: $1175 / 7 Ngts: $1525
4B – Deluxe
Amenities at this newly renovated three bedroom rental include a wood stove, flat screen TV and a jacuzzi in the master bathroom. The master bedroom has a king size bed and the second and third bedrooms have queen-size beds.

Midweek: $300 / Weekend: $350 / 5 Ngts: $1150 / 7 Ngts: $1350
8A – Deluxe
Amenities at this three bedroom rental include a gas fireplace and a jacuzzi in the master bathroom. The master bedroom has a king-size bed while the second and third bedrooms have queen-size beds.

Midweek: $300 / Weekend: $350 / 5 Ngts: $1150 / 7 Ngts: $1350
9D – Deluxe
This three bedroom rental features a jacuzzi and a gas fireplace. The master bedroom and second bedroom both have queen size beds. The third bedroom has a double bed and a set of bunk beds.

Midweek: $300 / Weekend: $350 / 5 Ngts: $1150 / 7 Ngts: $1350
6A – Premium Pet Friendly
This three bedroom rental features a wood fireplace, a pool table in the loft and a flat screen TV. The master bedroom and second bedroom have queen size beds, and the third bedroom has 2 bunk beds. This unit sleeps 8 and is pet friendly.

Midweek: $300 / Weekend: $325 / 5 Ngts: $1,125 / 7 Ngts: $1,475
12C – Premium Pet Friendly
This three bedroom rental features a flat screen TV, a pool table in the loft and a wood stove. The master bedroom has a King bed and the two other bedrooms have queen beds. This unit sleeps 6 and is pet friendly.

Midweek: $300 / Weekend: $325 / 5 Ngts: $1,125 / 7 Ngts: $1,475
15A – Premium Pet Friendly
This three bedroom rental is newly renovated and features a gas stove. The master bedroom and second bedroom have queen size beds, and the third bedroom has 2 bunk beds. This unit sleeps 8 and is pet friendly.

Midweek: $300 / Weekend: $325 / 5 Ngts: $1,125 / 7 Ngts: $1,475
14B – Premium
This newly renovated three bedroom rental features a wood stove. The master bedroom and second bedroom have queen-size beds, while the third bedroom has two bunk beds.

Midweek: $275 / Weekend: $300 / 5 Ngts: $1000 / 7 Ngts: $1300
15D – Premium
This three bedroom rental has an open loft and sleeps 8 people. It features a gas fireplace and flat screen TV's. The master bedroom and open loft have king-size beds, the second bedroom has a queen-size bed and the third bedroom has two twin beds.

Midweek: $300 / Weekend: $325 / 5 Ngts: $1225 / 7 Ngts: $1500
16A – Premium
This newly renovated rental has a gas fireplace, so you can warm up in comfort during the winter. Its three bedrooms include a master bedroom with a king bed, a second bedroom with a queen bed, and a third bedroom with 2 bunks.

Midweek: $275 / Weekend: $300 / 5 Ngts: $1000 / 7 Ngts: $1475
12A – Standard Pet Friendly
This three bedroom rental features a flat screen TV, a projection TV in the loft and a gas stove. The master bedroom and second bedroom have queen size beds, and the third bedroom has bunk beds. This unit sleeps 8 and is pet friendly.

Midweek: $250 / Weekend: $275 / 5 Ngts: $975 / 7 Ngts: $1225
16C – Standard
This three bedroom rental features a wood-burning fireplace. The master bedroom has a king size bed, the second bedroom has a queen size bed, and the third bedroom has 2 twin beds.

Midweek: $225 / Weekend: $250 / 5 Ngts: $850 / 7 Ngts: $1050
17C – Standard
This three bedroom rental also features a wood-burning fireplace. The master bedroom has a king size bed, the second bedroom has a queen size bed, and the third bedroom has 2 twin beds.

Midweek: $225 / Weekend: $250 / 5 Ngts: $850 / 7 Ngts: $1050
17D – Standard
This rental has a gas fireplace along with three bedrooms, all of which have a queen size bed.

Midweek: $225 / Weekend: $250 / 5 Ngts: $850 / 7 Ngts: $1050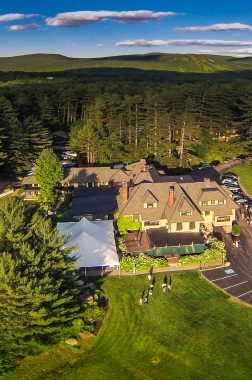 Features of Our North Conway Vacation Rentals
Wi-Fi
Color cable TV
Fully-equipped kitchen
Three bedrooms
2 1/2 baths
Living room with fireplace or woodstove
Dining room

Family room
Loft
Private deck/patio
Washer and dryer
Dishwasher
Rentals 7B and 8B are pet friendly